About Me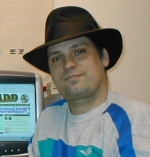 My name is David M. Fitzpatrick. I'm from Bangor, Maine--far removed from most of civilization, but a decent place with everything one needs, even if it isn't a 24-hour town. I like to hike and climb mountains, and there are plenty of great hikes nearby: the many mountains of Acadia National Park on the coast, Mt. Katahdin in Baxter State Park, Tumbledown Mountain and other peaks in Mt. Blue State Park, my very favorite Gulf Hagas, and many more.
For several years, until late 2001, I ran a computer services shop in downtown Bangor. My business was my life 12-18 hours a day, 7 days a week. I closed it down to focus more on my writing. Today, I do that sort of work solely with selected business clients, as I now write full-time for the Bangor Daily News, and there's more time to write.
Since I was a kid, writing has been my passion. I've been writing, and loving it, since I was about seven. Possessed of a runaway imagination, I always lost myself in books filled with wonderful fiction. Whether it was a journey to a faraway world, exploring magicks others said didn't exist, or loving to be scared to death reading some ghost story, a book was always in my hands.
As well was a pen. Before I understood the concepts of structuring a story, I was writing them down. Many people told me to not waste my time and focus on a real career—but I didn't listen. Good thing, that.
Life got in the way a lot, and I was busy with a family and "a real career," so I got sidetracked… but eventually, I started selling short stories. It hasn't stopped yet, and I look forward to the "waste" others thought it might be.
While I've written in various modes of fiction and non-fiction, my true passion has always been what is called "speculative fiction"—primarily fantasy, science-fiction, and horror. In 2000, I sold my first short fiction piece, and many more have followed. Along the way, I've had the opportunity to write in other areas, such as technical pieces, humor, and even an interview... but fiction has always been my focus.
Working for a Newspaper
In early 2005, I began freelancing for the Bangor Daily News for their Special Sections. I did a fair amount all year long and they must have liked me, because in November 2005 they hired me on full-time. But why write advertiser editorial for a newspaper when fiction is my focus? Like Dean Koontz said in How To Write Best-Selling Fiction, until you can make a living writing fiction, you have to make a living doing something else... so why not get paid to write? It doesn't matter what you write, so long as you write. A writer shouldn't spend his days running a cash register or serving meals in a restaurant, or selling vacuum cleaners or fixing computers; a writer should get paid to write.
And writing for the NEWS is a great accompaniment to my other writing. If nothing else, I've gotten even better at trimming my prose! When I'm told to do an extensive interview and write up a 600-word story, and my first draft comes in at 1,000, it's a challenge to trim down the piece to fit! Trimming word counts has always been something I've focused on after completing the first draft of a story, but the NEWS has helped hone that ability.
At the same time, writing newspaper stories is vastly different than writing fiction. For the NEWS, we adhere to Associated Press Style, which is NOT necessarily ideal for writing fiction. There are a lot of head-scratchers in AP Style, to be sure--I would NOT recommend anyone who wants to write fiction use the AP Stylebook as their writing bible.
Teaching Writing
The old saying goes that those who write, do; those who don't, teach. I don't always agree with that, because not only do I write every day at the NEWS, and publish fiction regularly and steadily, but now I'm also teaching writing.
In November 2006, on assignment for the NEWS, I had the pleasure of meeting with Pat Gillis, the continuing education coordinator at United Technologies Center in Bangor. In discussing how UTC gets ideas for courses to offer, Pat and I thought that a course teaching the ins and outs of writing, editing, polishing, marketing, submitting, and publishing short fiction would be a great idea--and as such, "Creative Writing: The Short Story" was born. This 15-week course would cover all those aspects, and when it's over, the students will have produced polished works of short fiction--which I will then independently publish in an anthology. I'm very excited about this project!
But teaching this course is strange in a couple of ways. First, UTC focuses on technical courses, so writing is not what one might expect to find there. At the same time, we both agreed the school and the students would benefit from such a course. Second, 20 years ago, I attended UTC when it was called Southern Penobscot Vocational School, completing a two-year course in Computer Information Services. I certainly never expected to be back there, two decades later, teaching.
The first run of the class was only four people. We had hoped for seven, but were not surprised to have a small turnout for the first round. This is a great experiment that we hope will become a regular course. For updates on how the course is going, visit the course page.